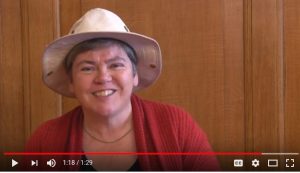 See below for dates of Muddy Archaeologist talks
A wide-ranging Range of Lectures and Courses  is available
A dedicated Arts Lecture Portfolio  is also available  (Gillian is an accredited lecturer of the Arts Society)
2018 Ratings for Arts Society Talks:  30% Outstanding; 20% Excellent; 50% Very Good      (0%  rated Good, Passable or Poor)
NEW FOR 2021 Study day:
Tutankhamun's World: An Archaeologist's View – So Much More than  a Tomb and a Mask  Celebrate the 100th anniversary of Carter's great discovery of 'Wonderful things' with this Full or Half Day Study Day.  Explore the astonished world of Tutankhamun and his treasures.  The World of Tutankhamun synopsis 
The Complete Pompeii.    Join me, an archaeologist who has excavated on a Pompeian site, for a full or half day exploring the wonders of life in this ancient city 2,000 years ago.  Complete Pompeii Synopsis
Why not try my NEW TALKS 
Planets, Panthers & Palettes: Roman Pliny's Remarkable 'Natural History'  

Discover the astonishing ways the Romans viewed the amazing natural world 2,000 years ago …  Was Pliny an eco-warrior?

Ancient Roots: Classical Stories growing in your Garden 

 

Uproot the myths and uses of plants 2,000 years ago, and discover the ancient roots of our modern gardens today 
Some of the most popular Muddy Archaeologist talks are:
Complete Pompeii  Full Study Day  Find out how to truly enter the world of the Romans at Pompeii

.

A Mediterranean Tour – Not Just  a Load of Old Stones    Getting to grips with ALL the ancient civilisations and identifying their distinctive art and place and time.
A Muddy History of Britain – A Local View   The archaeology of Britain seen through the big famous sites and your own sites near you
Digging Deeper in Pompeii with the Muddy Archaeologist 
Latin Yesterday, Today & Forever  How and why Latin remained part of our lives through the centuries and today)

Roman Britain: What did the Romans Ever do for Us?

Pompeii – A Fresh Look at Frescoes

  Revel in the colour and themes of beautiful wall paintings and what they tell us about Roman life and aspirations.

Pompeii – A Product of its Time   How an ordinary town like Pompeii is a window onto the world of the Roman Empire.
A selection of talks on enjoying archaeological destinations & sites including Neolithic Orkney & Shetland, Megalithic Malta, the Mycenaean World, Minoan Crete, Ancient Cyprus, Ancient Sicily, the Brave New World of Ancient Greece, Hadrian's Wall, Pompeii & related sites, Romans across their Empire, the Romans in your area,  and many others.  View a recent talk on the archaeology of Jarlshof, Shetland here.

Talks also available on specialist themes:

Your Profession
Animals in the ancient world – myths, uses, folklore, rich images …
Options include: Bee-keeping; Birds; Pets; Sea Life;
Plus: Latin Names Brought to Life
Classical literature & authors (an overview guide or focus on any one, such as Homer, Greek playwrights, Pliny, Cicero, Ovid, Virgil, Horace, Catullus, Suetonius, Vitruvius …);
Greek & Roman mythology;
Ancient philosophy – How the Romans Saw the World;
Latin inscriptions;

Sailing the Wine Dark Sea, and more.

Contact me

to arrange a talk for your society   Tel. 07860 637301
For more details please email gillian@muddyarchaeologist.co.ukOf course, I would look forward very much to seeing you at any of the public talks below.   If any are anywhere near your area and you'd like me to speak to a society or organisation near you while I'm there, please contact me.
And don't forget, if you're in North Yorkshire, there are a wealth of courses to join in with too!  I'm also happy to travel to deliver a course near you:  one-day, weekend, one-week options.
Public Talks by The Muddy Archaeologist in  2021
Mon 6 Sept 2021    What did the Greeks & Romans ever do for Art?     Helmsley Arts Society  7.30pm  The Old Meeting House, Helmsley
Weds 8 Sept 2021  What did the Romans Ever do for Britain?    Acorn Ladies Luncheon Club.  1 pm  Wetherby
Mon 20 sept 2021  A Mediterranean Tour: Not just a Load of Old Stones  Wirral Arts Society    2pm  Wirral.
Tues 28 Sept 2021 An Ancient Mediterranean Tour: Not just a load of old stones  Wensleydale Arts Society 2pm  Leyburn
Thurs 30 Sept 2021 A Mediterranean Tour: Not just a Load of Old Stones
East Herts Arts Society   10.30am, Broxbourne
Mon 6 Dec 2021  io Saturnalia!  Merry Christmas the Roman Way 
Kingston Arts Society   7.30pm     online zoom lecture
Weds 8 Dec 2021   io Saturnalia!  Merry Christmas the Roman Way  Horsham Arts Society   11am  online zoom lecture
Book now to a talk by the Muddy Archaeologist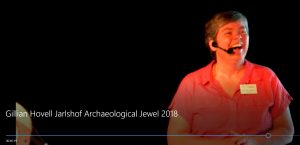 Gillian Hovell is an Arts Society Accredited Lecturer



Vast and varied Arts Society Portfolio of Talks and Study Days available here