See below for dates of Muddy Archaeologist talks
A wide-ranging Range of Lectures and Courses  is available
A dedicated Art Lectures portfolio  is also available  (Gillian is an accredited lecturer of the Arts Society)
And a BRAND NEW blossoming Gardeners' Ancient Roots portfolio can be read here (Gillian is a Probationary Member of the Garden Media Guild)
Some of the most popular Muddy Archaeologist talks are:
A Mediterranean Tour – Not Just  a Load of Old Stones    Getting to grips with ALL the ancient civilisations and identifying their distinctive art and place and time.
A Muddy History of Britain – A Local View   The archaeology of Britain seen through the big famous sites and your own sites near you
Digging Deeper in Pompeii with the Muddy Archaeologist 
Latin Yesterday, Today & Forever  How and why Latin remained part of our lives through the centuries and today)

Roman Britain: What did the Romans Ever do for Us?

Pompeii – A Fresh Look at Frescoes

  Revel in the colour and themes of beautiful wall paintings and what they tell us about Roman life and aspirations.

Pompeii – A Product of its Time   How an ordinary town like Pompeii is a window onto the world of the Roman Empire.
A selection of talks on enjoying archaeological destinations & sites including Neolithic Orkney & Shetland, Megalithic Malta, the Mycenaean World, Minoan Crete, Ancient Cyprus, Ancient Sicily, the Brave New World of Ancient Greece, Hadrian's Wall, Pompeii & related sites, Romans across their Empire, the Romans in your area,  and many others.  View a recent talk on the archaeology of Jarlshof, Shetland here.
Talks also available on specialist themes: ancient gardens & plants; animals in the ancient world; classical literature & authors (an overview guide or focus on any one, such as Homer, Greek playwrights, Pliny, Cicero, Ovid, Virgil, Horace, Catullus, Suetonius, Vitruvius …); Greek & Roman mythology; ancient philosophy – How the Romans Saw the World; art; architecture; Latin inscriptions; Sailing the Wine Dark Sea, and more.
Contact me to arrange a talk for your society   Tel. 07860 637301
For more details please email gillian@muddyarchaeologist.co.uk
Of course, I would look forward very much to seeing you at any of the public talks below.   If any are anywhere near your area and you'd like me to speak to a society or organisation near you while I'm there, please contact me.
And don't forget, if you're in North Yorkshire, there are a wealth of courses to join in with too!  I'm also happy to travel to deliver a course near you:  one-day, weekend, one-week options.
Public Talks by The Muddy Archaeologist in 2019-2020
Book now to arrange a talk by the Muddy Archaeologist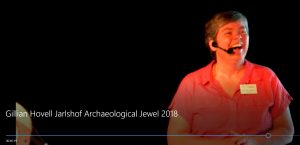 9 january           Ripon Women's Luncheon Club
14 January        Courses on Virgil's 'Aeneid' begin at Christ Church, Harrogate & at North Stainley
19 January        The Arts Society, Welwyn Garden City Roman Art Unearthed: What the Romans Really did for Art
21 January         Course  Greek & Roman Art begins at the Old Deanery, Ripon
Saturday 9th February 2019 : York University   STUDY DAY
A Mediterranean Tour : Not Just a Load of Old Stones
10am-4.30pm Contact: York University's Lifelong Learning
Book via York University's online store    www.york.ac.uk/lifelonglearning here
Enquiries:  01904 328473    email: lifelonglearning@york.ac.uk
4 March              Harrogate Ladies' Luncheon
4 March              Burley in Wharfedale 050 Club  What did the Romans Ever do for Yorkshire?
7 March              The Arts Society, Gainsborough & District  A Mediterranean Tour: Not Just a Load of Old Stones
13 March            The Arts Society, Totnes (10.30am)   A Mediterranean Tour: Not Just a Load of Old Stones
13 March              The Arts Society, Plymouth (7.30pm)
Saturday 16th March 2019 : York University   STUDY DAY
Classical Literature : Meeting the Ancient Authors
10am-4.30pm Contact: York University's Lifelong Learning
Book via York University's online store    www.york.ac.uk/lifelonglearning here
Enquiries:  01904 328473    email: lifelonglearning@york.ac.uk
21 March       Huddersfield Arts Society  A Mediterranean Tour: Not Just a Load of Old Stones
2 May   Goldsborough WI  Pompeii: Digging Deeper with the Muddy Archaeologist
Saturday 4th May 2019 : York University   STUDY DAY
The Archaeology of Prehistoric Britain : Digging into our Ancient Past
10am-4.30pm Contact: York University's Lifelong Learning
Book via York University's online store    www.york.ac.uk/lifelonglearning here
Enquiries:  01904 328473    email: lifelonglearning@york.ac.uk
17 May   Orwell Arts Society, Ipswich  STUDY DAY From Flints to Frescoes
Saturday 19th June 2019 : York University   STUDY DAY
Latin Yesterday, Today and For Ever : A Brief History of Latin
The story of Latin through the ages and a wealth of etymology
10am-4.30pm Contact: York University's Lifelong Learning
Book via York University's online store    www.york.ac.uk/lifelonglearning here
Enquiries:  01904 328473    email: lifelonglearning@york.ac.uk
8 July  Brayton WI
29 July – 2 August     Course at Marlborough College Summer School:  Latin Yesterday, Today and Forever
5 – 9 August    Course at Marlborough College Summer School:   An Ancient Mediterranean Tour: Not Just a Load of Old Stones (Week-long mornings course)
5-9 August     Course at Marlborough College Summer School    Classical Literature : Meeting the Ancient Authors (Week-long afternoons course)
Sept-December:  Courses in Harrogate, Ripon & North Stainley  TBA
14 November    Ripon Arts: Troy: The Real Story
28 November   The Arts Society,  Oakham :  io Saturnalia!  Merry Christmas the Roman Way
29 November    Bearsted History Society   Latin Yesterday, Today and For Ever
10 December   The Arts Society, Chester : io Saturnalia!  Merry Christmas the Roman Way
11 December    The Arts Society, Burghley, Stamford : io Saturnalia!  Merry Christmas the Roman Way
12 December   The Arts Society, Macclesfield : io Saturnalia!  Merry Christmas the Roman Way
2020
14 January         The Arts Society, Alton
2 March               Yarm Ladies Luncheon Club  What did the Romans ever do for us?
8 December     The Arts Society, Diss
Gillian Hovell is an Arts Society Accredited Lecturer



Vast and varied Arts Society Portfolio of Talks and Study Days available here