About Me
Author, historian, archaeologist and public speaker of considerable experience and range, I specialise in providing passion, colour and depth to the present by visiting the past – whether it be through books, lively illustrated talks, articles, archaeological tours and cruises, walks, community archaeology projects, curses and classes, media.
My clients include the British Museum and York University.
Ex-BBC, I'm delighted to contribute via radio/audio, film, apps or printed media and I love meeting you in person at events too.
As Author, award-winning Writer, Tutor, Presenter and Public Speaker at events, in the media, on tours and cruises etc, I work as a freelance independent self-employed professional.
(Read my award-winning RHS/British Library entry here
Biography
After graduating in Latin & Ancient History from Exeter University in 1983, I spent several years working in BBC Television on everything from live television at No.10 to the Domesday Project (remember that?) and a spell in Children's Programmes, as well as Drama Series & Serials and Science & Features.
I moved to North Yorkshire where I began to throw myself (often literally) into archaeology and started my award-winning writing and public speaking career.
I love to share history through teaching Latin and Classical History, community archaeology projects, writing books and articles, or presenting in person, on-line, in the media and on tours and cruises to demystify the past – I aim to open our eyes to see that it's all around us, if we just know where to look …
"But what use is Latin and Ancient History?" is a question I am frequently asked, to which my answers were, and are, many and varied but which nearly always include the concept "because it's FUN!".
For history and archaeology are all around us. We see it every day of our lives and use Latin and classical echoes all the time, often without even realising it – and it can be great fun. Honest. And it's a privilege to be at the cutting edge of unearthing and sharing muddy history when I'm out on community archaeology sites or major international sites too.
Watch my Show Reel here :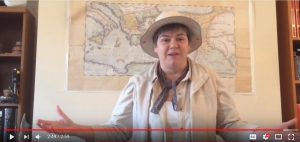 You can read my CV here
Gillian Hovell  CV
Galleries
At the Sharp End of the Trowel
Sharing the Exploration