Mon 2- Mon 9 May 2022   8 days
with The Muddy Archaeologist and CICERONI Travel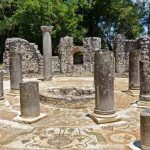 I am delighted to be joining the Ciceroni family of tour lecturers for this adventure into fascinating Albania.
Rich in so much history, this will be a feast for the eyes and and an exploration into this still unspoiled part of the world.
£2,395 for a truly fantastic exploration of Albania's history and culture.
More details here – BOOK with CICERONI Travel